Child Care Courses Perth
Contact Details
Claim Listing
Login Required Suggest Changes
No Login Required
Opening Times
Mon - Fri 9:00 AM to 5:00 PM
Child Care Courses Perth, WA - Enroll for child care courses at Best child care courses in Perth, WA and start a career in the child care industry. At Child Care Courses Perth, we teach a wide range of courses keeping in the specific shortages in this sector. Two of the most popular courses we provide include:

1) Certificate III in early childhood education and care - This course can give you the specified skills to communicate and work in a cooperative manner with the teachers and colleagues. Together with that, the course can teach you to keep up the health and safety of kids resulting in an integrated care of children.
2) diploma of early childhood education and care - You will be planning, designing and implementing ideas for development and learning of children. You will be supervising other staff and workers working with you.
Photos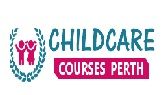 Claim Listing
Login Required Suggest Changes
No Login Required
Related Businesses